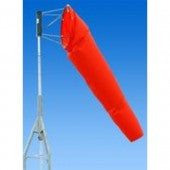 Windsocks
Our Orange Fluorescent Windsock is made of premium durable nylon cloth and treated with a water repellent and a UV inhibitor.
Nylon offers windsock durability to the elements and will not become rigid in cold, hot and wet weather, keeping our windsocks responsive to the wind. Our windsock is fade resistance and color retention.
Our Windsocks are double-stitch in every seam with weather resistant nylon thread. A 400 lb. tensile strength webbing is added in the throat for reinforcement. Brass grommets are evenly spaced allowing for the standard lace-on or tie wrap method of attachment.
---
We Also Recommend